Copperline offers a full menu of coffee, cold brew and espresso drinks, along with fresh baked goods. Copperline's craft coffee is sourced from local organic roaster Island Roasters Coffee Company.
A welcoming atmosphere and trained baristas will provide the quality, service and comfort customers expect.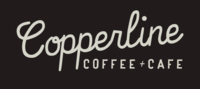 Hours of Operation:
Monday through Saturday 7 a.m. - 9 p.m.
Sunday 8 a.m. - 6 p.m.