New Section of Sweetheart Trail Open in Daytona Beach.
Fri, Sep 11, 2020 at 2:50PM
---
Written by Kristen Schmutz
Belden Communications News

Construction of the Sweetheart Trail in Daytona Beach is about 80% complete as a new section of the trail is open and ready for enjoyment.
The $1.2 Million put into work constructing the trail, was also used to upgrade the stormwater system, narrowing Beach Street to make room for the trail, adding curbs and gutters, repaving South Beach Street, and installing a streetlight system.
FP&L will also be adding decorative lighting to the trail.
This new section connects two pre-existing trails one on the Northside of the new section and the other on the Southside. The southern end of the Sweetheart Trail includes a section from the Bellevue Avenue North to Orange Ave, that is currently under utility construction.
According to a release, the $8.1 million utility project includes the installation of a new 36-inch force main along South Beach Street to increase capacity in the wastewater collection system serving the downtown area and the installation of four stormwater backflow preventers to help mitigate storm sewer backups due to high water levels in the Halifax River.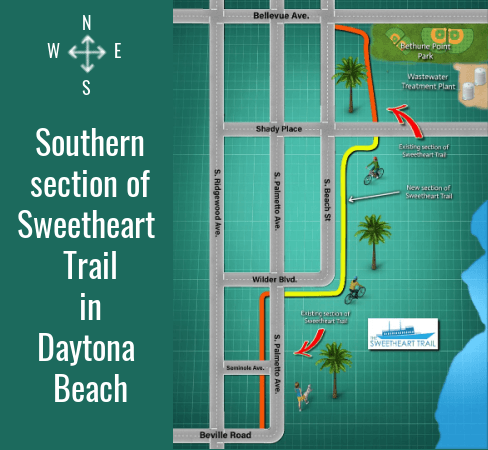 The remainder of the trail is scheduled to be completed in 2021.
---
Bookmark & Share
---
User Comments
Be the first to comment on this post below!