Two Sent to Hospital Following Accident on Segrave St in Daytona Beach.
Thu, Jul 16, 2020 at 5:20PM
---
Written by Kristen Schmutz
Belden Communications News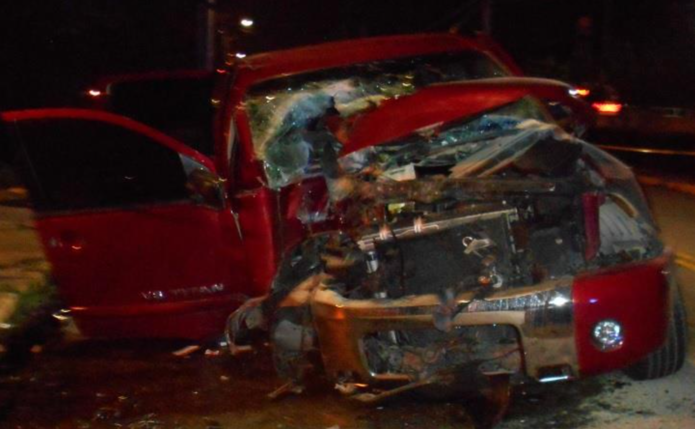 According to a release, the Daytona Beach Police Department is actively investigating an early morning traffic collision which ended with at least two people hurt.
First responders arrived on the scene just before 3:30 a.m., Thursday after a call was placed to 911.
Investigators believe a four-door red 2006 Nissan Titan XE was heading north on Segrave when it veered into the opposite travel lane. That's when its driver's side collided with the driver's side of a four-door maroon 2002 Ford F250 Super Duty which was parked on the southbound side of Segrave.
The Nissan also struck the left side of a black trailer attached to the back end of the Ford, as well as two men who were having a conversation standing alongside the trailer, before crashing head-on into a concrete pole on the west side of Segrave.
The driver and registered owner of the Nissan – a 59-year-old Daytona Beach man – was not ejected from the vehicle and was not wearing his seat belt. The vehicle's airbags did not deploy.
The vehicle came to a stop facing south in the southbound travel lane of Segrave.
No one else was in either vehicle at the time. Detectives did talk to a 51-year-old man on the scene who told them he came to the area with the Nissan driver before the crash, but he did not see the incident because he was using the restroom at a business nearby at the time of the incident.
Paramedics took one of the men involved to Halifax Health Medical Center soon after their arrival on the South Segrave Street.
The Nissan driver is currently listed in a critical and unstable condition.
Paramedics also took one of the pedestrians – a 39-year-old Sanford man, to Halifax Health with possible fractured bones in one of his hands. His condition is not life-threatening. While the other – a 55 year-old-man, was uncooperative, refused medical treatment, and left the scene.
It is not 100% confirmed at this point that this is a DUI case. Charges may be filed once the investigation is complete, including toxicology results.
---
Bookmark & Share
---
User Comments
Be the first to comment on this post below!